Riverlea's Founder
Dr. Elizabeth (Betsy) Umstead, 1928-2001, founded Camp Riverlea in 1971 and directed the camp for 31 years. She graduated from UNC Women's College and went on to earn a Master of Education from Harvard as well as a Master of Arts and a Ph.D. from UNC-Chapel Hill. Betsy taught at six colleges, including a college in Baghdad, Iraq through a Fulbright Fellowship in 1957. She finished her career teaching for 25 years at UNC-Greensboro. Betsy spent more than a decade working at summer camps before founding Camp Riverlea, which continues to operate according to her philosophy and vision.
Pre-Camp History
In the early 1950s, Betsy lived with her family on the camp property in the pre-Civil War house now called the Hobbit House. Betsy bought the land, which included the Hobbit House and Brandybuck, from her father and brother. Brandybuck, built before the Civil War, is a log house that was home to farm workers and families and is now the home base for our archery and athletics programs.
Camp Riverlea Begins
Camp Riverlea began with just 16 campers and 6 counselors (including current owner and director Joe Harris) in the summer of 1971. The Shire (main lodge), the large swimming pool, and a tree house were constructed in 1971 prior to the start of camp. Over the years that Betsy directed Riverlea, she added many facilities to camp, including the tennis court, a corncrib moved from an old farm on Guess Road, the smaller swimming pool, the pond, the tennis barn, and the boat barn.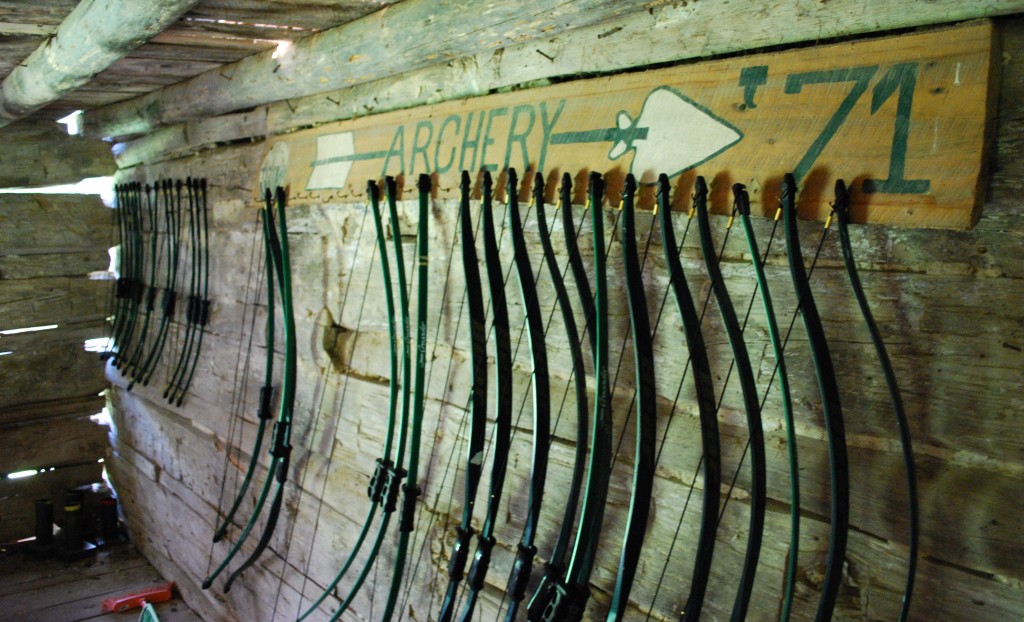 Camp Today
In May, 2010, a fire devastated the original Shire and nearly all of the equipment and artifacts that chronicled Riverlea's history. But that didn't stop camp from operating! A large tent served as the main lodge, and we had an amazing (fully enrolled!) summer. The new and improved Shire was completed in Spring 2011. Today, about 400 different campers attend every summer, and are led by an outstanding group of nearly 40 staff and 40 Orcs (volunteer counselors-in-training). We are proud to carry on Betsy's legacy of providing children with a place to enjoy the outdoors, learn new skills, grow as individuals, and form meaningful and positive relationships with their peers and counselors.
Tolkien Tradition
Betsy was an avid reader of J.R.R. Tolkien, and she decided before the founding of Riverlea to have a Tolkein theme woven throughout camp. Many buildings and places at camp are named after places in The Hobbit and The Lord of the Rings trilogy. Campers are grouped by the grade they are entering, and those groups are also named after people and creatures from Tolkien books:
Kindergarten: Hobbits, known as The Little People, related to humans, never exceeding four feet in height
First Grade: Baggins, the last name of the most famous hobbits, Bilbo and Frodo
Second Grade: Dobbers, as in dirt dobbers, or wasps (not Tolkein)
Third Grade: Pippins, the nickname of Peregrin Took, a hobbit
Forth Grade: Trolls, think hobbits are a tasty snack and turn to stone in the daylight
Fifth Grade: Tooks, the last name of a hobbit family including Peregrin "Pippin" Took
Sixth Grade: Ents, walking, talking, wise trees who watch over and guard the forests
Seventh Grade: Striders, the nickname of Aragorn, a selfless ranger and heir to the throne of Gondor
Counselors-in-training (rising 9th, 10th, & 11th graders, usually ages 14-16): Orcs, corrupted elves who became foot soldiers for the Dark Lords